Moss Agate Marquise Blossom Cluster Ring
Description
Many of our rings are one of a kind, but this one is especially matchless, featuring the union of marquise, round, and princess cut natural moss agates to illustrate the nature of covenant love. The union of hearts and diversity is what makes love beautiful and strong. Behold the beauty of handcrafted artistry; no one else will ever have this one-off masterpiece.
Please note that the natural pattern and appearance of each agate stone is slightly different, making this creation extra unique. We are the original jewelry designer who came up with the idea of hand-cutting natural moss agates into geometric shapes to create one-of-a-kind fine jewelry. Please beware of other replicas out there, as their designs may look similar to some of our bestsellers, but definitely cannot match our high standard of production and quality.
All of our rings are 100% made by hand in our studio in Europe with great affection to the smallest details. Please allow 7-9 weeks for production plus shipping. We offer free express shipping worldwide. Your item will be gift wrapped and shipped with insured express shipping from Europe.
MAIN STONE:
Gemstone: Top quality natural Moss Agates
Shape: marquise, round, princess
Measurements: 5×2.5mm, 4x2mm, 3x 1.5mm
ACCENTED STONES:
Gemstone: white diamonds
Shape: round
Size: 1.35mm
Quality: color grade F – G, clarity grade VS, conflict-free
MATERIAL & SIZING:
Materials: available in 14K Yellow Gold, White Gold, or Rose Gold
Size: US size 3 – 8 (larger and smaller sizes are available upon request)
Band measurement: approx. 1.6mm wide
Additional information
Additional information
| | |
| --- | --- |
| Material | 14K Rose Gold, 14K White Gold, 14K Yellow Gold |
| Ring Size (Standard US) | 4, 4.25, 4.5, 4.75, 5, 5.25, 5.5, 5.75, 6, 6.25, 6.5, 6.75, 7, 7.25, 7.5, 7.75, 8, 8.25, 8.5 |
SIZE & FIT
SIZE & FIT
All of our ring sizes are in standard US sizing.
If you are uncertain about your ring size, or not familiar with US sizing, use this ring size guide to measure your ring size at home, or to find out what your size converts to in standard US sizing.
*Please note this is only a guide and we cannot be responsible for incorrect ring size determination.
PRODUCTION TIME
PRODUCTION TIME
All of our pieces are 100% made by hand in Slovenia, Europe, with great affection to the smallest details. Please allow 7-9 weeks for production. For special requests and rushed orders, please e-mail us at info[at]praise.store to discuss.
SHIPPING RATES & INFO
SHIPPING RATES & INFO
We offer FREE SHIPPING worldwide with DHL Express in discrete and insured parcels. We will provide tracking number as soon as the package is ready to ship. You are required to sign for release of package.
All orders are shipped from Slovenia, Europe, and usually takes 3-5 business days to arrive.
The buyer is responsible for any customs fees, duty fees, and taxes that may be required by your country's regulations for buying overseas items. We encourage shoppers to check the receiving country's import regulations to understand any additional customs charges that your package may be subjected to.
PACKAGING
PACKAGING
Your jewelry will be placed in a beautiful classic box, then carefully hand-wrapped for shipping purposes.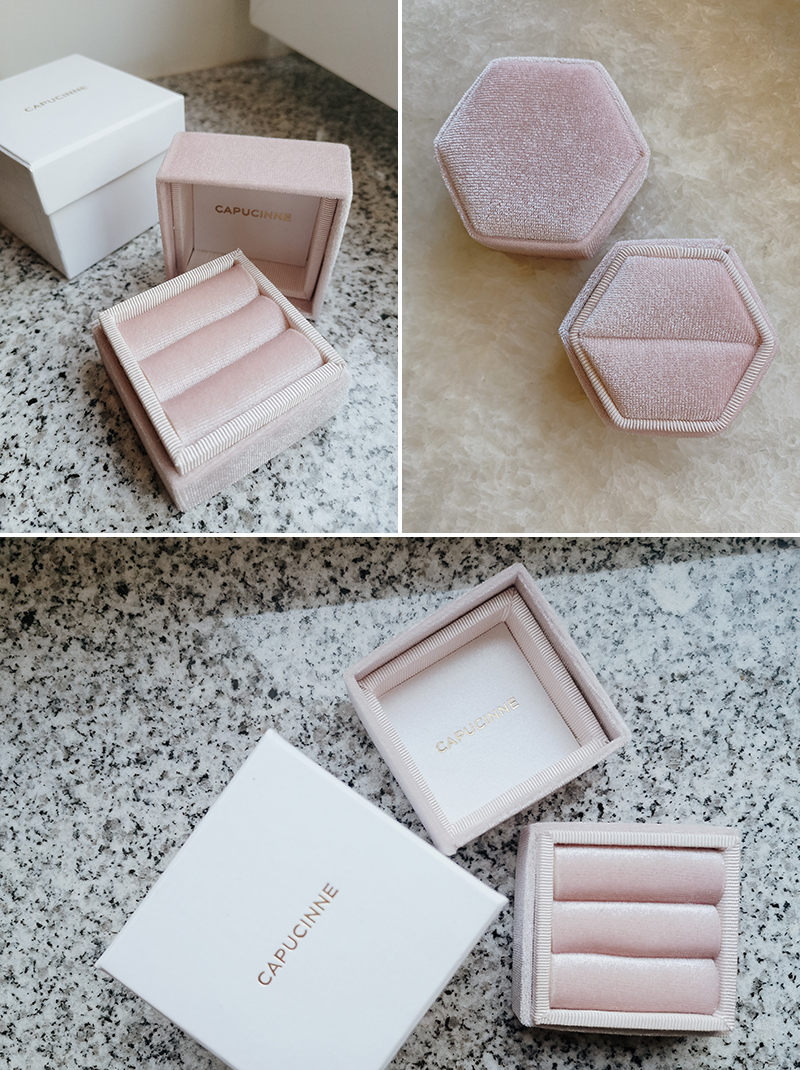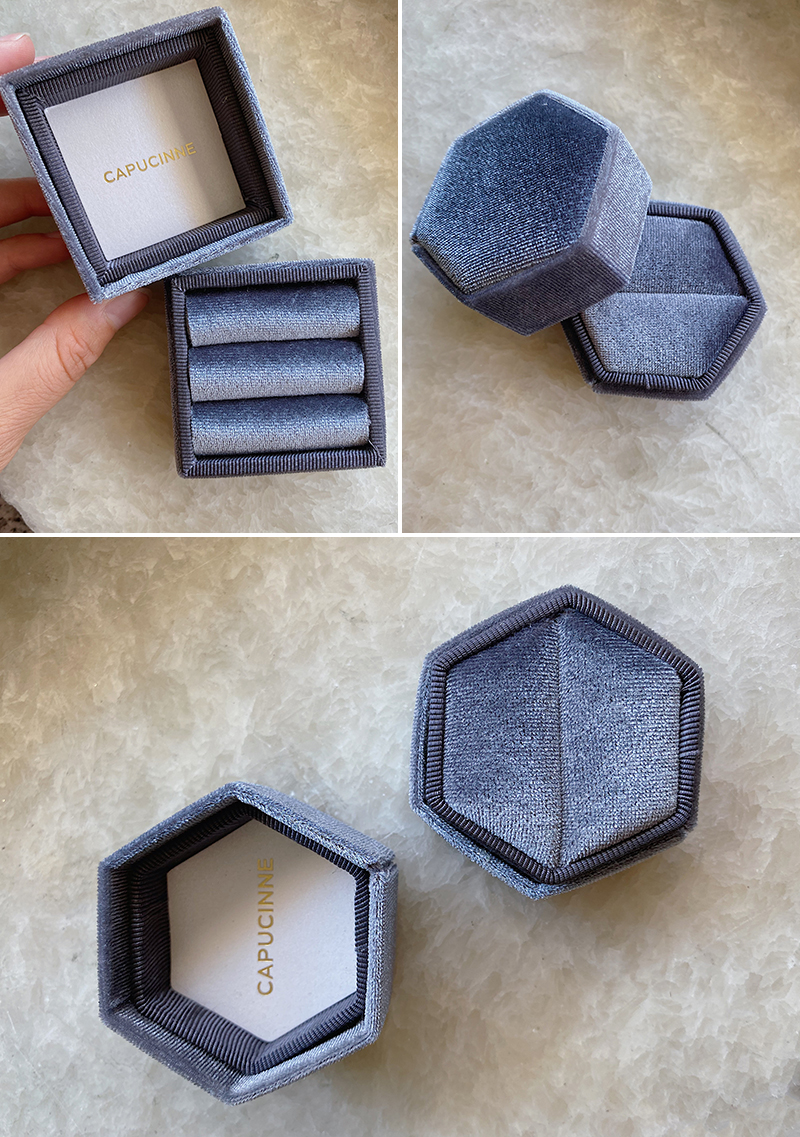 RETURN POLICIES
RETURN POLICIES
CAPUCINNE™ offers exchange on all purchases, excluding items that are custom-made, ooak (one of a kind), personalized, rushed, discounted, and items on payment/financing plans.
All items returned must be in new/unused condition with all original documents and packaging. Prior to sending the package back, please contact us for information on how to ship the item back. We cannot be responsible for an item not returned in the manner described. We are not responsible for loss or damage of return shipments. If the item was damaged in anyway, you will be charged for the damages.
We cannot accept returns if:
The items are custom-made (all wedding rings and custom orders)
The items are personalized (items engraved per customer's request)
The items have been made according to their specifications and instructions
Upon receiving the package, we will inspect the returned item(s), original documentations, and packaging. If everything is in order, we will issue you a full refund. Please have in mind that shipping costs cannot be refunded.
Resizing: If you provided us with the incorrect size and want to resize it, there are additional costs for the resize and shipping both ways. Please contact us with your issue with our item and we will provide you with further instructions. We do not offer refunds if the size of the ring you have provided is not correct. Any changes to the items (ring resizing, soldering, exchanging stones, pendants, etc.) voids the warranty.
WARRANTY
WARRANTY
The product warranty is 12 months and is valid if the product has not been exposed to major physical or chemical stresses, has not been processed, increased or reduced in size, and has no abnormal signs of wear (as normal signs of wear are considered minor surface damages, which occur due to day-to-day wear). The guarantee is valid only when the invoice is submitted.
All white diamonds with 0.3 carat weight and heavier come with a GIA Certificate – issued by the Gemological Institute of America. The report provides details about the cut, clarity, and carat weight, along with measurements and other additional information confirming the authenticity and quality of the diamond.
The GIA grades diamonds on a scale of D (colorless) through Z (light color). The diamonds we select for our designs correspond to colors G or F, which means that they are nearly colorless and only a professional gemologist can detect the difference between colors.
Practically all natural diamonds contain small imperfections inside, called inclusions, or on its surface, called blemishes. Clarity refers to the degree to which these imperfections are present. On the scale from included to flawless diamonds, the diamonds in our designs are graded as VS or VVS, which stands for "very slightly" or "very, very slightly included". Inclusions are minor and only visible under a magnifying glass and not to the naked eye.
Craftsmanship
Capucinne
HOW ARE OUR PRODUCTS CRAFTED?
Capucinne is the main jewelry brand of the MinimalVS company from Slovenia. Capucinne's unique creations present the elegance and beauty of modern design and minimalism. All their jewelry is designed and handmade in Slovenia with genuine and high quality materials and gemstones. Every single piece of jewelry is made with love and care.