Conservatory Envelope Holder
Description
A wedding card box can be more than just a place for guests to put their cards, it can also be a great decoration that adds to your theme! With this geometric conservatory envelope holder — which will fit any wedding theme from elegant to rustic — you don't have to worry about carrying around envelopes for the night and can focus on dancing and enjoying your big day.
This beautiful box comes with an opening on the side, and can hold 100-250 cards depending on the card size and thickness.
Material & Finishing:
There is a color to suit every wedding. You can pick a finishing material from modern metallics: black, silver, bright copper, or rustic copper
Ring Holder Attachment – Yes or No:
We are able to attach a metal ring holder in the middle so your ring stays up in upright position (like in our product shots). If you're interested in this modification, please select "Yes" from the "Ring Holder Attachment" drop-down menu when ordering. Please refer to the last product shot photo to see the difference.
Size Measurements:
Inches: 7.5″ tall by 6″ wide by 11″ long
Metric: 19 cm tall by 16 cm wide by 28 cm long
Opening: Rectangular with sides of 7″ x 4″ ~ 18 cm x 10 cm
Who's It For:
You are so close to wedding perfection — this card box is for you
Those looking for a quality keepsake after the wedding
Wedding & Event planners striving for customer service perfection
Wedding photographers looking for a stylish object to enhance their styled shoots
Handcrafted Details:
This piece is handcrafted from top quality 2 mm clear glass ground smooth, cleaned and copper foiled. The glass pieces are meticulously assembled and soldered together with care. The final steps are to wash, patina and wax the product.
Additional information
Additional information
| | |
| --- | --- |
| Finishing | Bright Copper, Rustic Copper, Black, Silver |
PRODUCTION TIME
PRODUCTION TIME
Our current production time for this item is 1-2 weeks.  This estimated production time does not include the shipping time.
SHIPPING RATES & INFO
SHIPPING RATES & INFO
All items are shipped from Turkey with tracking number.
Standard Shipping Cost:
North America: $12
Europe: $12
Australia, New Zealand and Oceania: $15
Asia Pacific: $15
Latin America and the Caribbean: $17
Estimated Standard Shipping Time:
North America: 10-21 business days
Europe: 7-15 business days
Australia, New Zealand and Oceania: 10-21 business days
Asia Pacific: 10-21 business days
Latin America and the Caribbean: 15-28 business days
DHL Express Shipping Estimated Shipping Time and Cost:
North America: 4-10 business days ($22)
Europe: 3-7 business days ($22)
Australia, New Zealand and Oceania: 4-10 business days ($28)
Asia Pacific: 4-10 business days ($28)
Latin America and the Caribbean: 5-10 business days ($32)
If you decide to go with DHL Express, please write your phone number in your order note or just send us a message. It is required for a better shipping experience. Parcels that are shipped with DHL Express cannot be delivered to PO boxes so please make sure that you are supplying a valid address for your order.
PACKAGING
PACKAGING
We make sure that each and every object is securely double-packaged, so it gets to you in one piece. We use lots of bubble wrap and styrofoam to immobilize the object in its original packaging and place these packages into strong cardboard boxes to prevent possible damage during transit. Multiple purchases may ship separately depending on the size & form of the items.
Our current damage rate is 0.11%. This means that the chance of receiving your item in perfect condition is 99.89%. If in the very rare case your item is severely damaged during transit, all you need to do is to contact us within 48 hours with a photo of the damage incurred to your item. Once you provide a proof that the item is damaged, we'll happily ship your a brand new one or issue a refund.
Want to buy something to send directly to a friend in another city? No problem! Just make sure to put your friend's address info as the "Ship To" address and let us know in the "Special Note" section of checkout if you want us to include a simple gift card or message.
PRODUCT CARE
PRODUCT CARE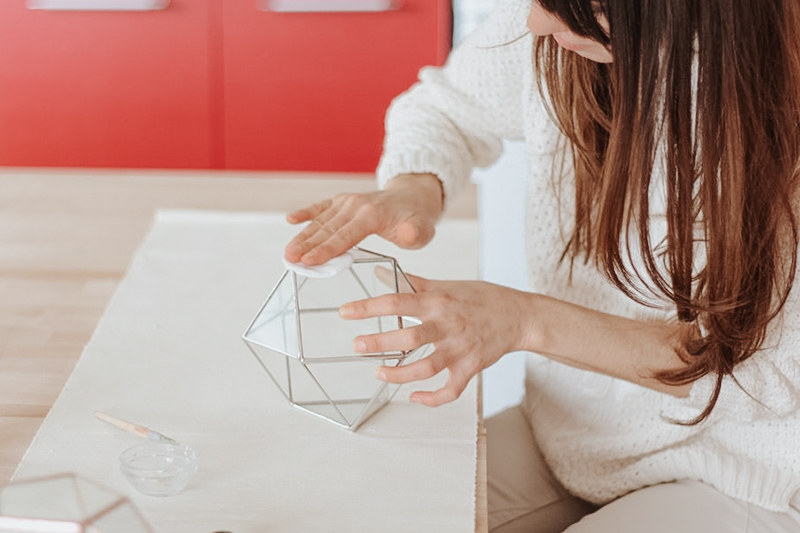 Our products are basically made of glass, and as of all stained glass items, they have a unique handmade touch due to the nature of the production. Stained glass items require special care to maintain the shiny look. Please wash them gently, dry the glass with microfiber swab, and do not use chemicals on them. After wash, wax it with furniture or car wax if you wish to present a more shiny look.
Waxing A Product with Black Finish
Before waxing, wash the product gently and dry it until it is completely dry. Do not use chemicals on it. Do not scratch the soldered parts while cleaning & drying cause the patina can be harmed. A car or furniture wax would do a great job but, note that some waxes may contain corrosive substance and this will remove the black patina. So never use a wax contains corrosive substance on an item with a black finish. If you're not quite sure about the ingredients, try the wax first on an unseen area on the object to see the result and then apply to all.
Waxing A Product with Copper Finish
Before waxing, wash the product gently and dry it until it is completely dry. Do not use chemicals on it. Copper patina is way too gentle than black patina so never scratch the soldered parts while cleaning & drying. Gently apply any wax with a cotton pad until your object gets brighter.
Waxing A Product with Silver Finish
Easy peasy. Silver items do not require a chemical coloring process as solder is silver too. The only thing you need to do is to wax your object with any kind of wax. This time, you don't need to be that gentle since you don't need to worry about removing a patina layer.
RETURN POLICIES
RETURN POLICIES
All the items that we offer on our shop have been described as accurately as possible – with all dimensions, colors and used materials – and we really try our best to take great pictures so you know exactly what you are buying before you receive it.
We hope all these steps make you happy with your purchase, but if for any reason you are not happy, please contact us within 7 days of receiving the item in order to be eligible to return it. We will respond as soon as possible so we can find a happy-ending solution together.
Due to our policy, we'll refund you the cost of the item that you purchased but only after you return the item to our studio and we receive it. Return shipping on refunds will be at the expense of the purchaser.
Items should be returned unused condition in the original packaging. We kindly ask you to make a secure packaging as we did for you so it gets to us in one piece. Please ask for delivery confirmation as we can not be held responsible for the loss in transit and also note that refund is not possible if the item arrives in damaged condition.
Craftsmanship
Waen
HOW ARE OUR PRODUCTS CRAFTED?
Waen is a stained glass studio based in Turkey founded by husband-wife duo Asli and Murat, as a part of a growing handmade movement towards owning things whose origins extended beyond an assembly line. They are honored to be able to share their craft with you and look forward to continuing bringing you beautiful, dramatic, resourceful handmade pieces.