Babys Breath Cross Back Playsuit
Description
Encourage the explorer in your little one with our super cuddly Baby's Breathe Cross Back Playsuit. Our playsuits are made from GOTS certified organic cotton & dyes making them extremely soft and gentle on your little ones skin. Created with wriggly, growing babies & toddlers in mind they feature 3 crotch snaps for easy changes, 2 wooden buttons on the straps to adjust the length and a gathered elastic waistband on back. Features gorgeous flutter sleeves and white ruffles on bottom.
100% Certified Organic Cotton & Dyes
Australian designed hand illustrated babys breathe print
Beautifully soft jersey knit fabric
Made in Australia
Additional information
Additional information
| | |
| --- | --- |
| Size (age) | 0 (6-12 months), 00 (3-6 months), 1 (1-2 years old) |
SIZE & FIT
SIZE & FIT
Please see sizing chart and measurement guide below.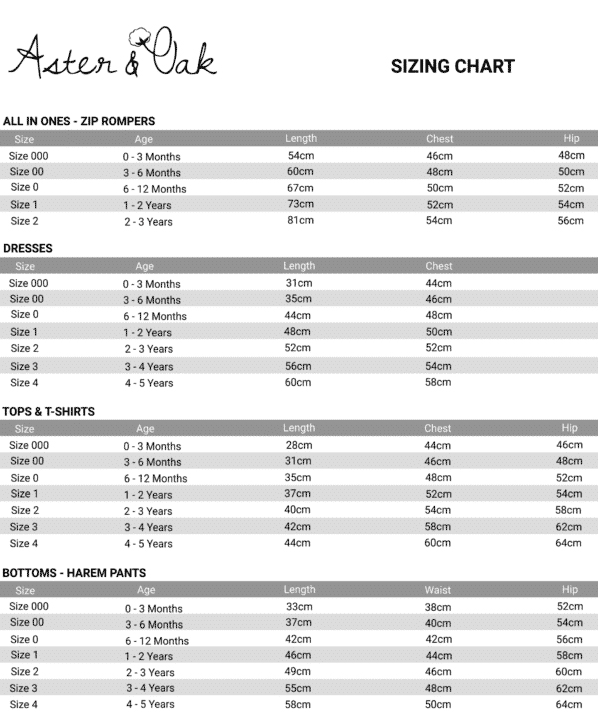 Length: measure from shoulder (for top and dresses) or waist (for pants and bottoms) to the bottom of garment
Chest: Measure around the widest part of the chest loosely
Waist: Measure around waist or area your child normally wears his/her pants
Hip: Measure the widest part of the hip
WHY ORGANIC?
WHY ORGANIC?
Babies have incredibly sensitive skin that is more porous and absorbent than adult skin. Similarly to the way parents carefully consider the type of shampoo or body wash to use on their baby, the textiles in clothing should also be considered because it comes into such close contact with a baby's skin. When wearing conventional cotton, your baby spends 24 hours a day in clothing laced with chemicals. These chemicals are designed to remain in the textiles for life and even after washing it's been scientifically proven they retain these chemicals for the entire lifespan of the garment.
Because organic cotton is pure and isn't treated with anti-static, anti-wrinkle pesticides and all the other toxic chemicals that ordinarily goes into making cotton, it's highly absorbent and breathes beautifully. People with allergies and sensitivity to chemicals especially benefit and we can certainly also celebrate the fact that certified organic cotton doesn't leave any harmful side effects on the environment.
Certified organic cotton is by far the safest option, second only to donning a birthday suit! Certified Organic cotton is grown without the use of harmful pesticides, herbicides and chemical fertilizers whereas conventional cotton-growing techniques rely heavily on these nasties to control the quality of the soil. Ordinarily cotton is processed using dyes, bleach and a host of other unhealthy chemicals that have been attributed to allergies, eczema and even cancer. Organic cotton, on the other hand, is free from all artificial additives as well as free from formaldehyde which has been classified as a cancer-causing agent by the International Institute for Research on Cancer.
Organic cotton is highly durable which means garments represent real value. Not only will they last longer and can be passed on to other children, but you'll also save money as well as the environment in the long run. Because the fibers haven't been deconstructed as chemicals are added, organic cotton doesn't pill easily or trap odors as much as conventional cotton. It's environmentally safe and by selecting organic cotton you're making a socially responsible decision to care for our environment, which after-all, is for the benefit of the future of our little ones.
Certified organic cotton feels simply luxurious! It's dramatically softer than conventional cotton because it hasn't been assaulted with chemicals and pesticides and is grown and manufactured in as natural state as possible. You must try it for yourself. Once you go organic, you'll never go back.
CARE
Cold gentle machine wash with similar colours. Line dry inside out.
PROCESSING TIME
PROCESSING TIME
The processing time is within 3 business days. This estimated processing time does not include the shipping time.
SHIPPING RATES & INFO
SHIPPING RATES & INFO
We offer FREE SHIPPING for all Aster & Oak products. Items are shipped from Canada.
Estimated shipping time:
Canada: 5 business days
USA: 7-10 business days
Everywhere else: 10-15 business days
RETURN POLICIES
RETURN POLICIES
You are welcome to contact us should you wish to communicate with us regarding repair, replacement or refund of a faulty product. Claims must be made within five days of receiving your item, and all items must be returned to us by post within fourteen days. We maintain the right to provide a suitable replacement product in the rare instance that you may have received a faulty item, and we maintain the right to provide a full refund in circumstances where we feel an exchange is not appropriate for any reason. It is unfortunately not possible to return baby clothes once the packaging has been opened due to personal hygiene reasons.
All cost of return shipping and insurance is the responsibility of the consumer and we do not accept liability for any products that you return to us by post, whilst in transit.
Our returns policy does not apply to products that have been worn, used or damaged during or after delivery. Furthermore, if any attempt has been made to alter the product or if it has been dropped, torn, stained, broken or otherwise, our returns policy is null and void.
All products must be returned in their original packaging with original Aster & Oak tags attached. Removal of tags forfeits your right to return or exchange.
We maintain the right to determine the outcome of all claims under all circumstances, and will endeavor to do so in a fair and reasonable manner.
Craftsmanship
Aster & Oak
HOW ARE OUR PRODUCTS CRAFTED?
Aster & Oak is a West Australian Children's clothing label that offers a truly unique range of certified organic clothing for all the precious little people in our lives. All clothing is made using the purest 100% GOTS certified organic cotton, making them gentle on your baby's skin and even gentler on our environment. The entire collection is personally designed and manufactured, and therefore the brand is able to maintain full control over the entire process every single step of the way. They are strictly organic from the soil their cotton is grown in, right through to the final production. Brimming with character, each piece is adorned in the most delightfully playful and whimsical design, all individually illustrated by hand and coloured using natural based dyes.